Panagia Platsani Church (Oia) - Santorini
Panagia Platsani Church/ Panaja Church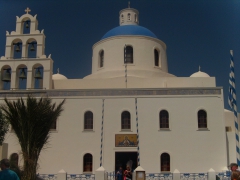 The Greek Orthodox church of Panagia Platsani is a popular sight of the city of Oia, located in the northern part of Santorini.
Santorini, Panagia Platsani Church (Oia) on the map

The church is built in traditional colours of the so-called Cycladic architecture. Its white walls boast together with the blue-domed roof and a beautiful bell tower with several bells. The interior is highly decorated with golden colour and offers numerous religious items and icons, which are very typical for the Greek Orthodox Church.
The church is a nice dominant of Oia and is standing on a place of honour, namely direct on the main square.
More touristic destinations of Santorini
Most favourite sights of Santorini: Akrotiri (archeological site), Archeological Museum of Thera, Agios Anastasios Church (Imerovigli), Panagia Platsani Church (Oia), Akrotiri Lighthouse, Ruins of Byzantine castle (Oia), Ancient-Thira (archeological site)
Resorts, beaches, sights or trips - clearly listed on the map of Santorini.
Did you visit this place and do you have some additional informations, interessting observation or photos?