Lighthouse Akrotiri - Santorini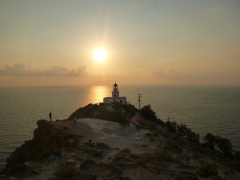 The famous lighthouse of Akrotiri is towering in the southwestern tip of coast of Santorini, near the same named Akrotiri village. The distance between this unique sight and the capital city of Fira is 18 km.
Santorini, Lighthouse Akrotiri on the map

Akrotiri lighthouse is considered to be one of the most beautiful lighthouses on the Cyclades islands. The white stand-alone building located on the edge of high cliffs above the sea creates a wonderful idyllic image, far away from the busy touristic resorts. Especially beautiful is this place during the evenings, when the lighthouse and its surroundings get the warm shine of the setting sun. You can sit on a rock just beside the lighthouse, watch the sunset and relax.
The lighthouse (in Greek Faros) was built in 1892 by a French company what makes it one of the oldest lighthouses in whole Greece. However, its service was interrupted during the World War II, when it was switched off. After the war in 1945 it was reconstructed under the lead of Greek Navy. Until 1988 the lighthouse was powered by a gasoline engine, since then the light has been automatized and today it is blinking within periodic intervals, several times per minute.
In the lower part of the lighthouse there is an apartment of the caretaker having a 10 metres high square-shaped tower emitting bright light above it. The lighthouse itself is not accessible to the public, but you can move without any limitation around its neighbourhood. It can be easily reached by the road from Akrotiri resort, which is going through beautiful nature, therefore even the travel to the lighthouse can be a nice experience.
More touristic destinations of Santorini
Most favourite sights of Santorini: Akrotiri (archeological site), Archeological Museum of Thera, Agios Anastasios Church (Imerovigli), Panagia Platsani Church (Oia), Akrotiri Lighthouse, Ruins of Byzantine castle (Oia), Ancient-Thira (archeological site)
Resorts, beaches, sights or trips - clearly listed on the map of Santorini.
Did you visit this place and do you have some additional informations, interessting observation or photos?