Vlichada - island Santorini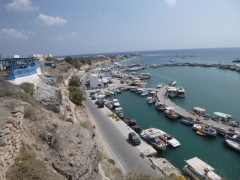 The small and quiet resort of Vlichada is located in the southern part of the Greek island of Santorini, about 11 km from the main town of Fira. It is famous for its magical beach, which is one of the most popular and photographed beaches on Santorini.
Santorini, Vlichada on the map

The resort of Vlichada is further away from the busy tourist resorts of the island, but it offers its visitors everything they need, including tavernas and restaurants as well as accommodation facilities. The resort is sought after by the more quiet and romantic nature, and the caf├ę floating on the sea can also give you an unusual experience. There is a small fishing harbour and Vlichada is also often the departure point for "underwater" excursions.
The resort includes the eponymous Vlychada beach, which fascinates with its rock formations. The coastline is lined with limestone rocks, which the years of weathering and the effects of the sea have made into a work of art. In their shadow lies a narrow beach dotted with dark lava pebbles, with a gradual entrance to the sea.
The nearby archaeological site of Akrotiri, unique in its age, is certainly worth a visit. Thanks to the finds here, we can go back an incredible 6,000 years! The area became important especially in the Bronze Age, from which many of the preserved remains date.
More touristic destinations of Santorini
Close resorts: Agios Georgios, Exomitis
Most favourite resorts of Santorini: Akrotiri, Imerovigli, Kamari, Megalochori, Fira, Oia (Ia), Perissa
Resorts, beaches, sights or trips - clearly listed on the map of Santorini.
Did you visit this place and do you have some additional informations, interessting observation or photos?