Pyrgos - island Santorini
Pyrgos Kallistis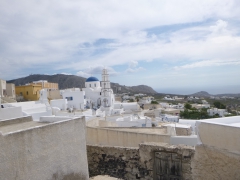 The resort of Pyrgos with the village of Pyrgos Kallistis (or just Pyrgos) is located in the central part of the Greek island of Santorini, about 5 km south of the capital Fira. Pyrgos is the highest village on the island.
Santorini, Pyrgos on the map

The village of Pyrgos is situated on the slopes of a hill, offering a magnificent view of the island of Santorini. It is a beautiful example of Greek medieval architecture, when towns were built with fortified walls, narrow and winding streets and hidden passageways. Even today, it retains its atmosphere, untouched by tourism. At the end of the 20th century it was declared a protected area.
Here you will find blue-roofed churches built in accordance with the Cycladic architectural style, traditional taverns, shops and cafes. Most of them stand in the lower part of the village, around the circular main square. There is also a variety of accommodation available to tourists, from rooms for rent, to villas and larger hotels.
At the top of this hill are the ruins of the Venetian castle of Kasteli, one of the five castles of Santorini. During the Easter holidays, on Good Friday, the whole castle is lit up with torches and the view is truly breathtaking. There are three churches in the surrounding area, with the church of Theotoki (Saint Theodora) considered to be one of the oldest churches on the island. In addition to the village buildings, long vineyards stretch along the hillside.
Nearby is the resort of Emporio, a quieter town with several beautiful churches and chapels. The monastery of Profitis Ilias (Elijah the Prophet) is certainly worth a visit, at the foot of the mountain of the same name. If you're in the mood for the sea and swimming, we recommend one of the most beautiful beaches on the island - Perissa beach, located on the south-east coast, just a few kilometres away.
More touristic destinations of Santorini
Close resorts: Athinios, Megalochori, Mesa Gonia, Messaria, Vothonas
Most favourite resorts of Santorini: Akrotiri, Imerovigli, Kamari, Megalochori, Fira, Oia (Ia), Perissa
Resorts, beaches, sights or trips - clearly listed on the map of Santorini.
Did you visit this place and do you have some additional informations, interessting observation or photos?