Vlychada Beach - Santorini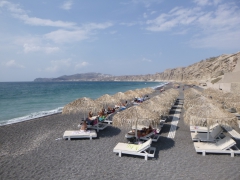 Vlychada beach, covered with dark volcanic sand, represents the real character of Santorini´s coasts, which are rough, rocky and simply unique. Many people describe Vlychada as the most beautiful beach of the island. It lies in its southern part, approximately 10 km from the capital city of Fira.
Santorini, Vlychada on the map

The beach is formed by a narrow, dark grey coloured sand and pebble coastline with very magic limestone rocks rising above it. The many years lasting impact of wind, sea water and sand has formed various shapes into them, worth to be seen. Vlychada belongs to the calmer beaches, where you sometimes can even feel alone, what makes the place a bit mysterious.
It is partly organized beach, with an easy access into the sea. The tourists can use sunbeds and umbrellas at its beginning as well as several snack bars and taverns located close to them and there is also a small fishing harbour working near to the beach. The further end of the beach is kept natural and untouched.
Another thing that is highlighting the local scenery, are the two high brick chimneys, belonging to an old former factory conserving tomatoes, which has been rebuilt to a culture centre. The beach of Vlychada is a part of the same name Vlychada Resort.
More touristic destinations of Santorini
Close beaches: Agios Georgios, Almyra, Eros
Most favourite beaches of Santorini: Kamari, Monolithos, Perissa, Perivolos, Red Beach, Vlychada
Resorts, beaches, sights or trips - clearly listed on the map of Santorini.
Did you visit this place and do you have some additional informations, interessting observation or photos?