Red Beach - Santorini
Red Beach (Kokkini Paralia)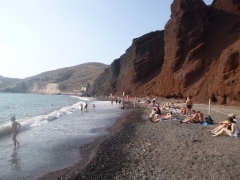 Red Beach lies on the southcoast of Santorini, approximately 12 km south west from the capital city of Fira. It is probably one of the most interesting and beautiful beaches on the island and was named after the red coloured rocks surrounding it.
Santorini, Red Beach on the map

Red Beach consists of a narrow coastline, covered with dark volcanic sand and pebbles and going along steep rocks. It is a really unique place that fascinates us with beautiful range of contrasting colours, including red rocks, dark pebbles or blue sea. The beach lies on the leeward side of high red rocks. Snorkeling is quite popular here because of the rich undersea world which can be observed here.
The beach is partly organized, its visitors can use the rent sunbeds with umbrellas here. Kokkini Paralia, another name for the beach, is quite small, therefore it can seem overcrowded during the main season. For that reason, many people don´t go to the central part of the beach, where the sunbeds are located, but stay aloof to be able to admire the beautiful panorama of the red and black rocks from afar.
The access to the beach is not complicated. There is a small parking place above the beach, from where you have a beautiful view of the flooded caldera and it is also possible to reach the beach by several boats, which are regularly going from the port of Akrotiri, Kamari and Perissa.
Just a few steps from the beach, you can visit the Ancient Minoan city of Akrotiri, also called the "Greek Pompeii", as it was covered by volcanic ash and dust after a huge volcano eruption around 1600 BC and thereby conserved and preserved until today, what makes it one of the most beautiful sights of Santorini.
From here, you also can visit the White Beach, famous for its white coloured rocks and small undersea caves, often explored by the divers.
More touristic destinations of Santorini
Close beaches: Akrotiri, Almyra, Caldera, Kambia, Kaminia, White Beach
Most favourite beaches of Santorini: Kamari, Monolithos, Perissa, Perivolos, Red Beach, Vlychada
Resorts, beaches, sights or trips - clearly listed on the map of Santorini.
Did you visit this place and do you have some additional informations, interessting observation or photos?