Perissa Beach - Santorini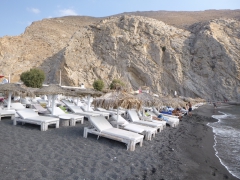 Perissa, one of the most beautiful and famous beaches of Santorini, lies on the southeast coast of the island, approximately 12 km south east from the capital city of Fira. It offers the tourists a unique view of the Mesa Vouno mountain.
Santorini, Perissa on the map

The beach is covered with¬†dark volcanic sand, what makes the water have mysterious¬†dark blue¬†colour. It is¬†well organized, fully equipped¬†and has an¬†easy access¬†into the sea. The tourists can lie on sunbeds with umbrellas and use showers, children¬īs playgrounds and also service of a lifeguard. For its cleanliness and equipment, the beach was awarded by the Blue Flag.
It is an ideal place for water sport activities. If you have the courage, try for example windsurfing, water skiing or the so-called banana boats. There are also diving centres on the beach, offering an amazing undersea world experience as well as many taverns, restaurants or bars, having a lively atmosphere during the evenings and nights. The beach is a part of the same name Perissa resort and can be easily reached by car or by bus.
Perissa is a really unique place, as it offers, except the nice environment, also a very beautiful view of the Mesa Vouno mountain, which is rising out of the sea and separating the resort of Perissa with the one of Kamari. The mountain is also very important because of the archaeological site of Ancient city of Thera, being located on its top.
More touristic destinations of Santorini
Close beaches: Agios Georgios, Kamari, Perivolos
Most favourite beaches of Santorini: Kamari, Monolithos, Perissa, Perivolos, Red Beach, Vlychada
Resorts, beaches, sights or trips - clearly listed on the map of Santorini.
Did you visit this place and do you have some additional informations, interessting observation or photos?