Kaminia beach - Santorini island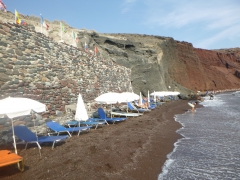 Malá, ale velice příjemná pláž Kaminia leží na jižním pobřeží řeckého ostrova Santorini, cca 11 km jihozápadně od hlavního města Fira. Je vzdálena jen pár kroků od jedné z nejkrásnějších santorinských pláží Red Beach.
The small but very pleasant Kaminia beach is located on the southern coast of the Greek island of Santorini, about 11 km southwest of the capital Fira. It is just a few steps away from one of Santorini's most beautiful beaches, Red Beach.
Santorini, Kaminia on the map

The beach consists of a narrow strip of coastline covered with dark volcanic sand and pebbles, which is washed by a beautifully clear and blue sea. Just behind, the high and massive cliffs of the southern part of Santorini rise up, and this spot in particular offers stunning views of the nearby red-tinged rocky cliffs. Kaminia is located in close proximity to the unique Red Beach, which takes its name from the rocks here.
The beach is partially organized and visitors can use several sunbeds and umbrellas.
Access to the beach is not difficult. Mostly people come here via the neighbouring Red Beach, above which there is a small parking lot and on the way down you get a beautiful view of the entire Kaldera Bay. The beach can also be reached from the other side, via a narrow path leading directly to Kaminia beach. You can also take one of the boats that leave regularly from the port of Akrotiri, or from the ports of Kamari and Perissa.
Near Kaminia beach is the ancient town of Akrotiri, nicknamed the "Greek Pompeii". Around 1600 BC, after a massive volcanic eruption, dust and ash covered the settlement, preserving its remains to the present day. It is one of the most important monuments of Santorini.
More touristic destinations of Santorini
Close beaches: Akrotiri, Kambia, Red Beach, White Beach
Most favourite beaches of Santorini: Kamari, Monolithos, Perissa, Perivolos, Red Beach, Vlychada
Resorts, beaches, sights or trips - clearly listed on the map of Santorini.
Did you visit this place and do you have some additional informations, interessting observation or photos?