Kambia beach - Santorini island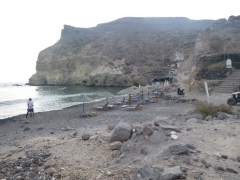 Klidn├í, p─Ťkn├í pl├í┼ż Kambia s k┼Öi┼í┼ą├ílov─Ť ─Źistou vodou le┼ż├ş na ji┼żn├şm pob┼Öe┼ż├ş ┼Öeck├ęho ostrova Santorini, cca 14 km jihoz├ípadn─Ť od hlavn├şho m─Ťsta Fira.
The quiet, pretty beach of Kambia with crystal clear waters lies on the southern coast of the Greek island of Santorini, about 14 km southwest of the capital Fira.
Santorini, Kambia on the map

Kambia beach is a lesser known beach, somewhat hidden from the eyes of visitors. However, it lies in a popular tourist area of the south coast, between Red Beach and White Beach, which are famous for the colour of their surface and the surrounding rocks. From Kambia Beach you can see Red Beach and you can also see the beautiful Akrotiri (Faros) Lighthouse. The beach is located just a short distance from the important archaeological site of Akrotiri.
Kambia is a quiet beach, surrounded by rocks that provide protection from the wind from the north and natural shade. If the wind is from the south or southeast, the beach is very windy and the stay is not pleasant. Its surface is made up of pebbles and sometimes larger and sharper rocks, so water shoes are recommended. However, the sea is beautifully clear.
There are several sunbeds with umbrellas and a wonderful little family tavern. Be sure to order a meal of fish or some other seafood, as everything is prepared by the owners from fresh catches (usually their own).
The beach is accessible by bike and by car, by turning off the road leading from Akrotiri to Faros. The view of the red glowing rocks in the distance is enticing, so some people choose to walk from Kambia Beach to Red Beach. It's doable, but the walk is a bit more challenging. It takes about half an hour, and you'll probably have to negotiate loose rocks in the process.
More touristic destinations of Santorini
Close beaches: Akrotiri, Black Beach, Kaminia, Mesa Pigadia, Red Beach, White Beach
Most favourite beaches of Santorini: Kamari, Monolithos, Perissa, Perivolos, Red Beach, Vlychada
Resorts, beaches, sights or trips - clearly listed on the map of Santorini.
Did you visit this place and do you have some additional informations, interessting observation or photos?