Agios Georgios Beach - Santorini Island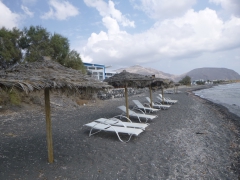 Agios Georgios Beach is located in the southern part of the Greek island of Santorini, about 11 km southeast from the capital city of Fira. It is sandy with a dark surface and belongs to one of the most popular beaches for tourists.
Santorini, Agios Georgios on the map

Agios Georgios Beach is located on the south-east coast of the island, next to the neighbouring Perivolos Beach. In fact, it is one long strip of beaches stretching from Vlychada Beach to Perissa Beach, where it is difficult to distinguish where one ends and the other begins. Santorini's coastline is washed by crystal-clear water, that invites not only for swimming, but also for diving and snorkelling.
Agios Georgios is covered with grey to black sand with pebbles. The beach is clean and partially organized offering the tourists sun loungers with nice straw umbrellas, many beach bars and restaurants and a wide range of water sports. You can try windsurfing, water skiing or banana boats. Also the groups of trees near the beach are pleasant.
Although the beach provides good facilities for visitors, it is less crowded and quieter than the Perissa Beach. Agios Georgios Beach belongs to the eponymous resort of Agios Georgios and is easily accessible, there are even buses going here from the capital city of Fira.
More touristic destinations of Santorini
Close beaches: Perissa, Perivolos, Vlychada
Most favourite beaches of Santorini: Kamari, Monolithos, Perissa, Perivolos, Red Beach, Vlychada
Resorts, beaches, sights or trips - clearly listed on the map of Santorini.
Did you visit this place and do you have some additional informations, interessting observation or photos?