Agia Paraskevi Beach - Santorini island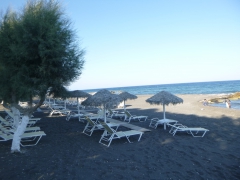 The quiet sand and shingle beach of Agia Paraskevi is located on the east coast of the Greek island of Santorini, close to the popular Monolithos Beach. It is located about 8 km east of the capital city of Fira.
Santorini, Agia Paraskevi on the map

Along the Monolithos - Agia Paraskevi holiday resort there is a long stretch of interconnecting beaches all the way to Kamari in the south. One of these beaches is Agia Paraskevi, the main beach of the adjacent resort of the same name. The area of Agia Paraskevi is very quiet, it is more a cluster of several hotels and other accommodation units than a typical resort with various tourist facilities.
Agia Paraskevi beach is covered with dark volcanic sand and pebbles. Due to its gradual entry into the sea and peaceful atmosphere, it is popular among families with children or older couples. The beach is partially organized, has several places with sunbeds and umbrellas where most of them belong to individual hotels. Also the trees and shrubs growing along the beach can provide the desired shade. You will find several tavernas here serving tasty Greek and international dishes.
Even in the peak tourist season, the beach is not overcrowded and offers so its visitors more peace and space. The tourists have a possibility to play beach volleyball or can try some water sports. In addition, we can observe the planes landing and departing here, as the beach lies close to Santorini International Airport.
More touristic destinations of Santorini
Close beaches: Avis, Kamari, Monolithos
Most favourite beaches of Santorini: Kamari, Monolithos, Perissa, Perivolos, Red Beach, Vlychada
Resorts, beaches, sights or trips - clearly listed on the map of Santorini.
Did you visit this place and do you have some additional informations, interessting observation or photos?