Skiadenis Monastery - Rhodes island
Monastery of the Virgin Skiadenis, Panagia Skiadeni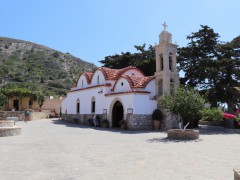 The Monastery of the Madonna of Skiadeni is a beautiful religious monument on the island of Rhodes, which houses a silver icon of the Holy Madonna and is still inhabited by monks. The monastery is located on a high mountain in the southwestern part of the island.
Rhodos, Skiadenis Monastery on the map

It is such a tradition of most Greek churches and monasteries that there is a spiritual and sometimes even fairy-tale story attached to their foundation. The monastery of Skiadenis is no exception. It is said among the locals that in the woods near where the monastery now stands, three monks lived in the church building, who one day saw a very bright light in the distance and set off in that direction. They found a picture of the Holy Madonna and took it home to their little shrine. However, the next morning the holy image disappeared. When the monks searched for it, they found it in the same place as the night before. They understood that the Madonna wanted to stay in this place and let a monastery build here for her.
The exact date of the foundation of the monastery is unknown. According to one inscription, its construction began in 1200; according to another, the monastery was officially founded in 1977. What is certain is that the building was reconstructed under Abbot Ignatius Zannetidis of Kattavia in 1861. Skiadenis Monastery is a quiet and very beautiful place, still inhabited by monks.
In the monastery, there is a silver icon of the Madonna of Skiadeni, which has been darkened by time. But what will surely catch your attention is the open wound in the Madonna's right cheek, with dried blood on it. According to local monks, a knife was supposedly stuck into the Madonna's image and she bled.
The Skiadenis Monastery is located at the west coast of the Greek island of Rhodes, in its southern part. If you drive from the north of the island along the west coast, after the village of Apolakkia (towards the next village of Kattavia) you will meet a signpost for the mountain of Skiadi. From the mountain, you will have a magnificent view up to the southern coast of the island.
More touristic destinations of Rhodes
Most favourite sights of Rhodes: Acropolis of Lindos, Acropolis of Rhodes, Monolithos Castle, Tsambika Monastery, Kolossos of Rhodes, Palace of the Grand Masters - Rhodes Town
Resorts, beaches, sights or trips - clearly listed on the map of Rhodes.
Did you visit this place and do you have some additional informations, interessting observation or photos?