Moni Thari Monastery - Rhodes Island
Archangel Michael Monastery (Laerma)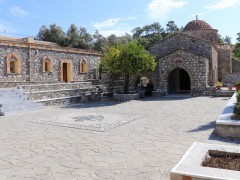 The Moni Thari Monastery is one of the most important religious monuments on the island of Rhodes and is still active and inhabited by monks. It is located in a beautiful landscape, surrounded by wild nature, in the central interior of the island.
Rhodos, Moni Thari Monastery on the map

The originally Byzantine monastery is dedicated to Saint Michael, the most famous of the archangels, i.e. the angels of God, who enjoyed special significance and reverence. According to a legend, a deadly ill Byzantine princess sailed here around the 7th century to live out her days. One day, however, the archangel Michael appeared to her and told her that she would recover. The princess did indeed recover and her father built a monastery here out of gratitude.
The monastery was built in the 12th century, but on the foundations of a much older church. Most of the buildings that stand here today subsequently date from the 14th to 16th century. In addition, the interiors of the monastery buildings are decorated with magnificent frescoes dating back to the 16th and 17th centuries. If you look closely, you will not miss the fact that the buildings are equipped with modern features (especially various electronic devices). The site is still in active use today, with extensive facilities for monks and even student dormitories.
The monastery stands in the middle of pine forests, in the central part of the interior of Rhodes. The closest village to the monastery is the traditional village of Laerma, from which the monastery can be reached by a path about 4 km southwest.
However, it is not the only place on the island that refers to Saint Michael. The beautiful white church of Archangel Michael, richly decorated inside, dominates the picturesque historic town of Archangelos, located to the northeast from here. You can also visit the unique Cave of the Archangel Michael, which is hidden on the west coast of the capital city of Rhodes (best accessible directly from the beach up via a stone stairway). Popular excursions for visitors to Rhodes include a cruise to the nearby island of Symi and a visit to the local Panormitis Monastery, dominated by the Church of the Archangel Michael, which dates back to 1783.
More touristic destinations of Rhodes
Most favourite sights of Rhodes:Â Acropolis of Lindos, Acropolis of Rhodes, Monolithos Castle, Tsambika Monastery, Kolossos of Rhodes, Palace of the Grand Masters - Rhodes Town
Resorts, beaches, sights or trips - clearly listed on the map of Rhodes.
Did you visit this place and do you have some additional informations, interessting observation or photos?