Siana - Rhodes Island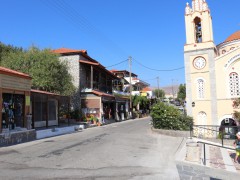 The picturesque mountain village of Siana is located in the southwestern part of the Greek island of Rhodes at the foot of the Akramitis Mountain, about 65 km southwest of the capital city. Siana is famous for its excellent honey and the local unique strong wine "Souma".
Rhodos, Siana on the map

The village of Siana is located in the interior of Rhodes, between the other smaller villages of Monolithos and Agios Isidoros. Siana is a mountain village as it lies at the foot of Mount Akramitis, the second highest mountain on Rhodes. The unique climate here allows the inhabitants to produce special local products of which the most famous are the local honey and the strong wine spirit "Souma". Be careful with Souma though, it is not for nothing that the locals call it "fire water".
You can buy excellent honey, Souma drinks, quality olive oil with various flavours and other local products and delicacies in local shops or taste them directly in the taverns. Siana is a small village, but with very good tourist facilities in the form of many shops, taverns and accommodation. In the shops you can also find other local products, such as hand-embroidered tablecloths, carpets or hand-decorated jewellery.
The village square is dominated by the large Byzantine church of Agios Panteleimon, dating from the 19th century which is not only beautiful from the outside, but its interior is also worth seeing. Behind the church there is a small but beautifully restored chapel from the turn of the 12th and 13th century.
A visit to the village of Siana is sure to be a nicely spent time and if you are bringing home gifts from your holiday to family and friends, then you will certainly find something to choose from here, the local products are truly unique and of high quality. The area also has a wonderful view down the coast of Rhodes and the small neighbouring islands. We recommend combining the visit to Siana with a trip to the nearby medieval castle of Monolithos, which stands on a high cliff near the west coast, less than 7 km away.
More touristic destinations of Rhodes
Close resorts: Aghios Isidoros, Monolithos
Most favourite resorts of Rhodes: Afandou, Archangelos, Faliraki, Ialyssos, Ixia, Kalithea, Kiotari, Kolymbia, Koskinou (Reni Koskinou), Lardos, Lindos, Rhodes (city)
Resorts, beaches, sights or trips - clearly listed on the map of Rhodes.
Did you visit this place and do you have some additional informations, interessting observation or photos?