Vlicha Beach - Rhodes Island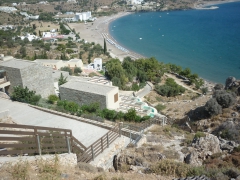 The long pebble beach of Vlicha is located on the eastcoast of Rhodes, in a bay near the town of Lindos and about 47 km southwest of the capital city of Rhodes. Vlicha Beach is organised and well equipped, but still one of the quieter ones.
Rhodos, Vlicha on the map

The picturesque sandy and pebbly beach of Vlicha (sometimes also written Vlycha) lies hidden in a bay near one of the most famous Rhodian resorts, Lindos. The beach is about 1 km long and is well protected from strong winds thanks to the walls of the bay. Families with children will also appreciate the clear sea and the gradual entry into the water.
The beach appeals especially to tourists and locals from the nearby resorts of Lindos and Lardos who want to escape the crowded central beaches. There are several hotels on Vlicha Beach as well, but even in the main tourist season the beach is never crowded. The quietest spots of the beach can be found on its sides.
Vlicha Beach is organised. It provides beach service in the form of sun loungers and umbrellas, there are several restaurants, taverns and snack stands and of course there are toilets. Tourists can also diversify their stay on the beach by choosing from a selection of water sports.
The beach has also been awarded the EU Blue Flag for its cleanliness and facilities.
More touristic destinations of Rhodes
Close beaches: Agios Pavlos (Lindos - Saint Paul Bay) beach, Kalathos beach, Megali Paralia (Lindos) beach
Most favourite beaches of Rhodes: Afandou beach, Agathi beach (Agia Agatha), Agios Pavlos beach (Lindos - Saint Paul Bay), Anthony Quinn beach (Vagies), Elli beach (Rhodes Town), Faliraki beach, Megali Paralia beach (Lindos), Prasonisi beach, Tsambika beach
Resorts, beaches, sights or trips - clearly listed on the map of Rhodes.
Did you visit this place and do you have some additional informations, interessting observation or photos?