Salamina Beach - Rhodes Island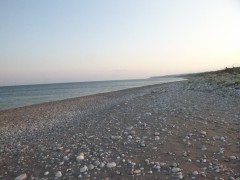 The small pebble beach of Salamina is located in the southeastern part of the Greek island of Rhodes, about 72 km southwest of the capital city.
Rhodos, Salamina on the map

Along the southeastern coast of Rhodes, near the resort of Lachania, the eponymous Lachania Beach is located. And because Lachania is a very long sandy and pebbly beach that passes through a sparsely built-up and inhabited area, some parts of it are named after the adjacent hotels and guesthouses for a better visibility. One such a part also is the beach of Salamina
Salamina Beach is located in front of several small villas (named after the Salamina villa), it is a small, unorganised pebble beach.
More touristic destinations of Rhodes
Close beaches: Lachania beach, Plimiri beach
Most favourite beaches of Rhodes: Afandou beach, Agathi beach (Agia Agatha), Agios Pavlos beach (Lindos - Saint Paul Bay), Anthony Quinn beach (Vagies), Elli beach (Rhodes Town), Faliraki beach, Megali Paralia beach (Lindos), Prasonisi beach, Tsambika beach
Resorts, beaches, sights or trips - clearly listed on the map of Rhodes.
Did you visit this place and do you have some additional informations, interessting observation or photos?