Kiotari Beach - Rhodes island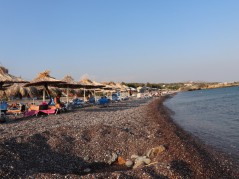 The long sand and shingle beach of Kiotari stretches along the southeastern coast of the Greek island of Rhodes, about 60 km southwest of the capital city.
Rhodos, Kiotari on the map

Kiotari Beach is part of the eponymous tourist resort of Kiotari and stretches along its entire length of about 4 km. Although sometimes it's hard to know if you're still on Kiotari Beach, as most of its length is made up of small hotel beaches, which may even be named after the hotel. Hotel beaches in Kiotari are often reserved for the hotel's clients only and are often well equipped with tourist facilities including beach bars and sports facilities.
Between the hotel beaches, there are parts that are unorganised, natural and open to the public. You can come here even if you are not a client of the local hotels and enjoy swimming in the clean and warm sea.
Kiotari can be described as a sand and shingle beach, but also larger pebbles are no exception. The hallmark of the beach is the reddish colour of its surface.
More touristic destinations of Rhodes
Close beaches: Gennadi beach, Kokkinogia beach
Most favourite beaches of Rhodes: Afandou beach, Agathi beach (Agia Agatha), Agios Pavlos beach (Lindos - Saint Paul Bay), Anthony Quinn beach (Vagies), Elli beach (Rhodes Town), Faliraki beach, Megali Paralia beach (Lindos), Prasonisi beach, Tsambika beach
Resorts, beaches, sights or trips - clearly listed on the map of Rhodes.
Did you visit this place and do you have some additional informations, interessting observation or photos?