Gennadi Beach - Rhodes island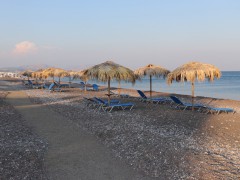 The long and quiet pebble beach of Gennadi is located in the southeastern part of the Greek island of Rhodes, about 64 km southwest of the capital city.
Rhodos, Gennadi on the map

The beach forms part of the tourist resort of the same name, Gennadi, which is one of the most peaceful places on the island of Rhodes. In the resort we can find a few small accommodations and basic tourist services.
Gennadi Beach is in keeping with the character of the whole resort and is also one of the very peaceful beaches of the island. The beach is very spacious and in the main part of the beach, visitors can use sunbeds and umbrellas as well as offer of the local beach taverns.
The beach is separated from the resort by the main road, which must be crossed. As there is less traffic in this part of the island and the beach is not close to the road, the traffic is minimal here.
The surface of the beach consists mainly of small pebbles to stones, in some parts we can also speak of a sandy-pebbly beach. Due to the areas with sharper pebbles, we recommend to wear water shoes. The beach is washed by crystal clear and warm sea and the beach itself has been awarded the EU Blue Flag several times.
Once in a while, however, Gennadi Beach comes alive when popular DJs come to use the spacious beach for a wild dance party.
More touristic destinations of Rhodes
Close beaches: Kiotari beach, Kokkinogia beach, Lachania beach, Salamina beach
Most favourite beaches of Rhodes: Afandou beach, Agathi beach (Agia Agatha), Agios Pavlos beach (Lindos - Saint Paul Bay), Anthony Quinn beach (Vagies), Elli beach (Rhodes Town), Faliraki beach, Megali Paralia beach (Lindos), Prasonisi beach, Tsambika beach
Resorts, beaches, sights or trips - clearly listed on the map of Rhodes.
Did you visit this place and do you have some additional informations, interessting observation or photos?