Agathi Beach (Agia Agatha) - Rhodes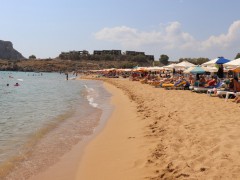 The popular sandy beach of Agathi (or Agia Agatha) is located in the eastern part of the Greek island of Rhodes, about 36 km southwest of the capital city. Agathi is traditionally ranked among the most beautiful beaches on the island.
Rhodos, Agathi (Agia Agatha) on the map

Agathi used to be a relatively well hidden beach, as it is situated in a beautiful bay, surrounded by hills and rocks and because there are no major tourist resorts in its immediate neighborhood. However, over the time, it has become popular not only among the locals, but also among the tourists who have found their way here as well and with them the basic tourist equipment has come. During the main tourist season, the beach can be crowded, but outside the summer season it is very quiet.
Agathi Beach is spacious, measuring more than 200 metres in length and is best known for its beautifully fine sand, which continues even along the seabed. The sea is sparkling clean and the entrance to the water very gentle, so you can go here with children or non-swimmers. Sun loungers with umbrellas, several beach taverns and sanitary facilities ensure a pleasant tourist base.
The beach is well protected by the surrounding rocks and the sea is usually calm. Below the sea surface, the rocks also form interesting formations that attract for diving and snorkelling. In addition, there are several caves in the rocks at the northern end of the beach, of which most are accessible and used by adventurers for overnight stays.
On the hill above the beach, a small white church dedicated to St Nicholas from the 14th century, shines in the distance.
Agathi Beach lies within walking distance to the village of Haraki, from where a more well-maintained dirt road leads to the beach. By car you can make this journey in about 5 minutes, but it is also a beautiful walk (about 20 minutes). Halfway, you can also stop at the Johannite castle of Feraklos, of which only the ruins remained until today, but from where you will have a wonderful view of the Agathi Beach and the neighbouring bay and beach of Haraki .
More touristic destinations of Rhodes
Close beaches: Haraki beach (Charaki), Massari beach
Most favourite beaches of Rhodes: Afandou beach, Agathi beach (Agia Agatha), Agios Pavlos beach (Lindos - Saint Paul Bay), Anthony Quinn beach (Vagies), Elli beach (Rhodes Town), Faliraki beach, Megali Paralia beach (Lindos), Prasonisi beach, Tsambika beach
Resorts, beaches, sights or trips - clearly listed on the map of Rhodes.
Did you visit this place and do you have some additional informations, interessting observation or photos?