Afandou Beach - island of Rhodes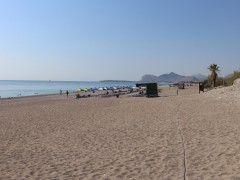 One of the longest beaches on the island of Rhodes, the sand and shingle beach of Afandou is located on the northeast coast of the island, about 20 km from the capital city of Rhodes. It is especially appreciated for its crystal clear water.
Rhodos, Afandou on the map

Afandou (or Afantou) beach stretches along the eastern coast for about 4 km, making it one of the longest and most popular beaches on Rhodes. It is covered with a mixture of sand and pebbles of different sizes (some parts of the beach are pure sand and others are more pebbly). Due to its pleasant environment and especially the clear azure sea, Afandou beach is regularly awarded the EU Blue Flag.
However, the seabed drops sharply after a few metres, which should be taken into account especially by weaker swimmers and families with small children. However, the beach is popular with all ages and many small children can be seen playing in the sand on the beach. Due to the greater depth, the sea here remains cooler even on the hottest summer days.
Afandou beach is very nice and one of the less busy ones, as there is both an organised part of the beach with sunbeds and umbrellas and a large enough, purely natural stretch where you can lie down with a towel and a book in your hand, for example. In addition to the beach service, visitors can take advantage of the water sports (especially windsurfing) and several taverns in the immediate vicinity of the beach. There is also a golf club at the northern end of the beach.
Other tavernas and various types of accommodation are available in the nearby village of Afandou, or rather the resort of Afandou, of which the beach is a part. In addition, a small tourist train provides a connection between the beach and the resort during the main summer season.
The neighbouring resort of Kolymbia can be reached on foot along the coastline to the south, as Afandou beach flows seamlessly into the northern part of the neighbouring Kolymbia beach. On the other hand, if you head north from Afandou beach, you will reach the quiet, pebbly beach of Traganou after a while. Apart from Afandou, the most popular beaches in the area are Ladikou and Anthony Quinn, which are popular for their beautiful surroundings. Their distance from Afandou beach is about 5 km.
More touristic destinations of Rhodes
Close beaches: Anthony Quinn (Vagies) beach, Kolymbia beach, Ladikou beach, Traganou beach
Most favourite beaches of Rhodes: Afandou beach, Agathi beach (Agia Agatha), Agios Pavlos beach (Lindos - Saint Paul Bay), Anthony Quinn beach (Vagies), Elli beach (Rhodes Town), Faliraki beach, Megali Paralia beach (Lindos), Prasonisi beach, Tsambika beach
Resorts, beaches, sights or trips - clearly listed on the map of Rhodes.
Did you visit this place and do you have some additional informations, interessting observation or photos?