Moni Vidianis Monastery - Crete
Moni Vidiani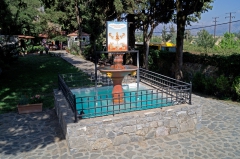 The men´s monastery of Moni Vidianis comes from the 19th century and represents the celebration of life, spring and blossom. It stands on the edge of the Lassithi Plateau in the north eastern part of Crete´s inland.
Kréta, Moni Vidianis Monastery on the map

The Moni Vidianis Monastery was built in 1854 probably on the fundaments of an older monastery. During its time, the monastery was a property of the Vidon Family (therefore "Vidianis") whose members were descendants of a Venetian family. Today, the monastery is serving as a men monastery and is dedicated to Zoodochos Pigi what means translated the "Life-Giving Spring". The spring is symbolized by a small fountain outside of the monastery.
Although the monastery is quite young it has a rich history. Soon after its foundation it was damaged by fire during the Cretan Revolution against the Ottoman rule in 1866, but it was rebuilt into its original look. During World War II in 1943, the Nazis executed the abbot of the monastery Dorotheos Tsagarakis for his collaboration with the Allied forces.
The proud heritage of the monastery is its altar carved out of wood.
In the summer the place is overgrown by many flowers of various colours and in the shadow of the trees there is also a small café. The way to the monastery is easy as it stands right at the road going along the Lassithi Plateau. The visitation of the monastery is often combined with the trip to the close stalactite cave of Dikteon Andron (located above the village of Psychro) which was believed to be the birthplace of the Greek god Zeus.
More touristic destinations of Crete
Most favourite sights of Crete: Agia Triada (archaeological site), Archaeological Museum Heraklion, Phaistos (archaeological site), Gortyn (archaeological site), Arkadi Monastery, Knossos (archaeological site), Church of Four Martyrs, Fortezza Fortress (Rethymno), Frangokastello Fortress, Spinalonga Fortress, Windmills on Lasithi Plateau
Resorts, beaches, sights or trips - clearly listed on the map of Crete.
Did you visit this place and do you have some additional informations, interessting observation or photos?