Church Four Martyrs - Crete
Four Witnesses Church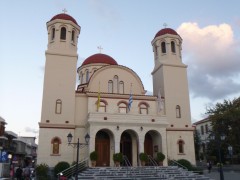 The beautiful Four Martyrs Church belongs to the Greek Orthodox Church and also nowadays there are worship services taking place regularly here. It stands in Rethymno, one of the biggest cities at Crete´s north coast.
Kréta, Church Four Martyrs on the map

The Four Witnesses Church better known as Four Martyrs Church (in Greek "Tesseris Martyres") belongs to the beautiful sighs of the historical city of Rethymno. The name "Four Martyrs" reminds on four brave Cretan men who refused to convert to Islam when Crete got under the rule of the Turks and sacrificed their lives for their believe. Their names were Aggelis, Emmanouil, Georgios and Nikolaos.
The church stands close to the Guora Gate, one of the main entrance gates into the old city of Rethymno where the four martyrs were executed in 1824.
The today´s look of the church is from 1975 whereas it does not only have a very nice exterior, but also its interior is decorated very fine by wall paintings and unusual furniture including beautiful chandeliers. In the church, there are worship services taking place regularly.
More touristic destinations of Crete
Most favourite sights of Crete: Agia Triada (archaeological site), Archaeological Museum Heraklion, Phaistos (archaeological site), Gortyn (archaeological site), Arkadi Monastery, Knossos (archaeological site), Church of Four Martyrs, Fortezza Fortress (Rethymno), Frangokastello Fortress, Spinalonga Fortress, Windmills on Lasithi Plateau
Resorts, beaches, sights or trips - clearly listed on the map of Crete.
Did you visit this place and do you have some additional informations, interessting observation or photos?