Nikos Kazantzakis Heraklion Airport - Crete
Nikos Kazantzakis Airport, Heraklion Airport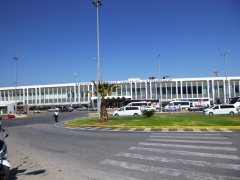 The international airport Nikos Kazantzakis is located in the northern part of the island and it is the biggest airport of Crete. It lies in close proximity to the capital city of Heraklion, around 3 km east from the city centre.
The airport is officially named after the Greek writer and philosopher Nikos Kazantzakis, but the locals call it simply "Airport Heraklion" The Nikos Kazantzakis airport is the biggest airport on Crete and the second busiest airport of Greece at the same time, after the international airport in Athens. During the summer season, it is used for the charter flights from all Europe and for the rest of the year for flights from Athens and other Greek cities.
The airport was built in 1937 and the first plane landed here two years later. However, the airport was out of order during the World War II, in the time period from 1941 until 1946. Before its recommissioning, it found itself in very provisional conditions as the airport building was built out of three tents, where the first one was made for the airport administration, the second was used as an office and the third served for the passenger care. In 1947, a small hall for the passengers was built and after the construction of the first runway in 1948 the planes started to fly in various destinations of Europe. However, the capacity of the old terminal hall was insufficient and therefore a much bigger terminal hall was built in 1971.
Today, the airport has a single terminal building and two runways as well as many parking places for big planes. The passengers have disposal of enough check-in stations, toilets, shops, restaurants, storage rooms for luggage, money exchange offices or even car rental.
Although, the airport has been significantly modernized, it gets often overloaded during the summer months as there is only one terminal fitting with its size just to usual regular traffic. For this reason, a new modern airport called Kasteli, planned to be finished in 2025, is being built near Heraklion.
The flight from Prague to Crete takes approximately 3 hours. After the landing the tourists can take a bus to get into the centre of Heraklion, from where other bus lines are going to the biggest and most popular resorts on the island.
IATA Code: HER
ICAO Code: LGIR
Websites:Â www.heraklion-airport.info, www.heraklionairport.net
Did you visit this place and do you have some additional informations, interessting observation or photos?