Rethymno Beach - Crete
Rethymnon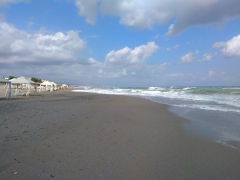 The beautiful sandy beach of Rethymno lies in the northern part of Crete in close neighbourhood to the eponymous city, approximately 81 km west from the capital city of Heraklion (Iraklion).
Kr├ęta, Rethymno on the map

The Rethymno Beach is a part of the wonderful historical city of Rethymno which fascinates its visitors mostly by the architectural sights from various periods of its colourful history. The beach lies just around 500 metres east from the city centre, right next to the Venetian harbour. It is actually the western end of the 13 km long sandy beach stretching along the Rethymno Bay and going far to the east till the Skaleta Resort.
Rethymno is a beautiful sandy beach with crystal-clear water. The gradual access into the sea and the pleasant width of the beach attracts families with children, despite there are sometimes waves occurring here because the bay is often being affected by northern winds, also known as Meltemi. We recommend therefore to watch the hoisted flag that informs about the actual security of bathing. The beach is also controlled by a lifeguard.
Rethymno Beach is quite crowdy and well-organized, the visitors have many services available here. A matter of course are sunbeds with umbrellas, showers or refreshment kiosks and in the close neighbourhood of the beach you can also find several tasty tavernas. Should you feel the need of adrenaline, you can try some of the offered water sports (Paragliding, Water skiing, Banana-Boats, etc.).
The bay of Rethymno is also an important nesting site of the rare Loggerhead sea turtles (Caretta caretta) which are coming to the beach during the nights to put their eggs into the sand in the period from May till September. Don┬┤t be then surprised if you see bounded places on the beach alerting the visitors on the turtle nests. After some time, usually in the night again, small turtles are hatching from the eggs and returning back into the sea.
Another important nesting site of the Loggerhead sea turtles is the Zakynthos Island, especially its Laganas Bay.
More touristic destinations of Crete
Most favourite beaches of Crete: Amoudara Beach (Heraklion), Balos Beach, Elafonisi Beach, Falassarna Beach, Glyka Nera Beach (Sweet Water), Matala Beach, Platanias Beach, Preveli Beach, Stalis Beach, Stavros Beach, Vai Beach, Voulisma Beach, Xerokampos Beach
Resorts, beaches, sights or trips - clearly listed on the map of Crete.
Did you visit this place and do you have some additional informations, interessting observation or photos?