Nea Chora Beach (Chania) - Crete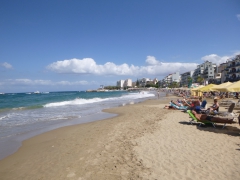 The nice sandy beach of Nea Chora (Chania) lies in the north western part of Crete, right at the beautiful historical city of Chania, approximately 144 km west of the capital city of Heraklion (Iraklion).
Kréta, Nea Chora (Chania) on the map

Nea Chora Beach lies west of the centre and harbour of the lively and popular city of Chania which is famous mainly for its historical part hiding many treasures from the Minoan, Venetian or Ottoman period. At the same time, Chania is the capital city of the eponymous Chania Prefecture and until 1972 it was also the capital city of Crete.
The beach of Nea Chora is covered by smooth sand and has a gradual entry into the sea which is crystal-clear and blue shining. However, the first metres of the sea bottom are made by pebbles, it is therefore recommended to wear bathing shoes (especially for children). Otherwise, the beach is very pleasant for relaxing as well as for childrenŽs fun because there are seldom big waves occurring on the coast. The main part of the beach is organized, but further to the west it keeps its natural character where you can find more privacy and less people. If you would continue west along the coast you would come to the Chrissi Akti Beach.
In many aspects, Nea Chora is a typical city beach – it lies within walking distance of the city centre (the tourists who are not accommodated in Chania can reach the beach by public transport or car), the beach is well-organized and offers very good touristic services including for example sunbeds with umbrellas, showers, beach sports playgrounds, snack kiosks, cafes or nice and pleasant tavernas. Especially the tavernas are known for the delicate fish meals what makes them very popular also among the locals who come here each summer to take part on the "Sardine Festival" which is accompanied by traditional Greek music and dances and is full of fish food of course.
More touristic destinations of Crete
Close beaches: Agia Marina Beach
Most favourite beaches of Crete: Amoudara Beach (Heraklion), Balos Beach, Elafonisi Beach, Falassarna Beach, Glyka Nera Beach (Sweet Water), Matala Beach, Platanias Beach, Preveli Beach, Stalis Beach, Stavros Beach, Vai Beach, Voulisma Beach, Xerokampos Beach
Resorts, beaches, sights or trips - clearly listed on the map of Crete.
Did you visit this place and do you have some additional informations, interessting observation or photos?