Most beautiful beaches of Santorini - Santorini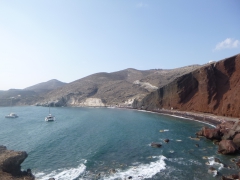 Santorini has many beautiful beaches, of which some are unique also due to their colourings. Go on a fabulous boat trip and visit the most known beaches.
Santorini, Most beautiful beaches of Santorini on the map

The traveling agencies are mostly organizing this trip as a half-day tour. The people, that are interested in the trip, are collected in the small fisherman´s harbour of Vlychada in the morning and go by boat along the southcoast of Santorini, where the famous beaches, named after the unusual colours of their surfaces, are located - Red Beach and White Beach. The passengers have the possibility to bath in the sea, as this also belongs to the programme of the trip, but due to the prohibition of anchoring the boats too close to the beaches, the bathing takes place directly from the boat.
As soon as the boat passes the southwestern tip of the island, it turns into the caldera and further towards the small Aspronisi islet, also known as the "White Island" which is a private property (It is alleged, that the islet is owned by one family already for seven generations). Depending on the spare time, there is also a possibility of bathing in the sea close to this picturesque island, before the ship turns back to the harbour of Vlychada.
More touristic destinations of Santorini
Tips for trips on Santorini: Caldera Boat Trip, Sunset in Oia, Most beautiful beaches of Santorini, Discovering the beauties of the capital city of Fira, Visiting Ancient Thera
Resorts, beaches, sights or trips - clearly listed on the map of Santorini.
Did you visit this place and do you have some additional informations, interessting observation or photos?