Vourvoulos - island Santorini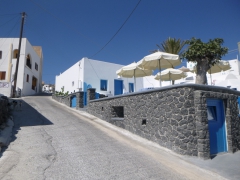 The small, quiet village of Vourvoulos is located in the northeast in the interior of the Greek island of Santorini. Its distance is about 3 km north of the main town of Fira.
Santorini, Vourvoulos on the map

The village of Vourvoulos is built on a hillside and offers a magnificent view of the wide plains of the eastern part of the island covered with extensive vineyards, meadows and coastline. Despite its close proximity to the capital, Fira, the atmosphere is quite different. The resort of Vourvoulos is very quiet and ideal for a carefree holiday.
Tourists are well looked after here. They can visit one of the cosy local cafes or the excellent tavernas serving fresh fish and delicious Greek specialities. There are several shops and even swimming pools with their own bar. There are nice villas, hotels with sea views and individual apartments for rent.
Vourvoulos is the place for pleasant early evening walks. You walk along narrow cobbled paths, lined with beautiful Cycladic architecture and just enjoy the sea air. You can also visit the two local churches of Agios Efstratios and Agios Panteleimonas.
Tourists from the resort of Vourvoulos mostly head to the beaches of Pori, Columbo and Vourvoulos. These beaches are not among the most popular and well-known ones for tourists, but on the other hand they are all the more close to unspoilt nature. They boast crystal clear waters and peaceful surroundings. Sometimes, however, you may encounter bigger waves due to the stronger winds.
More touristic destinations of Santorini
Close resorts: Firostefani, Imerovigli, Město Fira
Most favourite resorts of Santorini: Akrotiri, Imerovigli, Kamari, Megalochori, Fira, Oia (Ia), Perissa
Resorts, beaches, sights or trips - clearly listed on the map of Santorini.
Did you visit this place and do you have some additional informations, interessting observation or photos?