Perissa - Santorini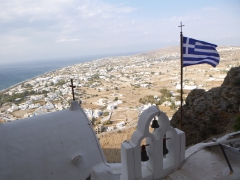 Perissa, a frequently visited resort with a beautiful beach, lies in the southeastern part of Santorini, approximately 13 km from the capital city of Fira.
Santorini, Perissa on the map

Perissa, a resort with a nice beach, is located around 3 km south of Kamari, from which it is separated by the Mesa Vouno Mountain with Ancient Thira on top of it.
The beach is covered by black volcanic sand and pebbles and belongs, together with the beach of Kamari, to the most visited places of Santorini. The tourists are primarily enticed by the crystal-clear water and many sport activities, which can be done in the sea as well as on the land. The beach is surrounded by high rocks and thereby protected against strong winds, what can be helpful for having a pleasant stay. Many divers come here to have a look at the local magic undersea world. Along the beach, there is a big promenade with several hotels, bars and restaurants.
You can spend a nice time in the aquapark with many slides. Buses are regularly going to other cities and resorts and there are also car and bike rentals available for those people, who want to travel on their own. The trips possibilities are similar here as in Kamari Resort. Everyday many boats are going to other beaches and resorts.
Perissa can boast of having the second largest church of Santorini - church of the Holy Cross, built between 1835 and 1840. It was heavily damaged by the earthquake in 1956 and had to be renovated. Close to the church, there is a chapel of Aghia Irini (Saint Irene), who gave the name to the whole island.
More touristic destinations of Santorini
Close resorts: Agios Georgios, Emporio, Kamari, Perivolos
Most favourite resorts of Santorini: Akrotiri, Imerovigli, Kamari, Megalochori, Fira, Oia (Ia), Perissa
Resorts, beaches, sights or trips - clearly listed on the map of Santorini.
Did you visit this place and do you have some additional informations, interessting observation or photos?