Oia (Ia) - Santorini
Pano Meria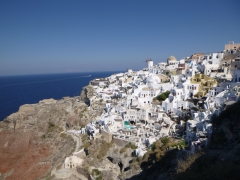 Many people consider Oia as the most beautiful city of Santorini. It is located on the north western tip of the island, approximately 12 km from the capital city of Fira. After the earthquake in 1956 the city was heavily damaged and rebuilt again.
Santorini, Oia (Ia) on the map

Oia Resort is a demonstrative and nice example of the Cycladic architecture, where traditional white terraced houses dug into the rocks and blue roof churches are creating the image of the city, that keeps its original character. The local natural sceneries of the sunrises and sunsets are each year tempting many photographers and painters, trying to capture the unique moments. In the narrow and curvy streets, we can come across many galleries exposing photos, paintings and other forms of art.
Along the main promenade, which goes around the crater, we can find many hotels, taverns, bars and souvenir shops - everything to the satisfaction of the tourists. You can also visit the Naval Maritime Museum, where you can see old and new ship models, various maps and equipment.
Oia is a frequently visited place, among other things also because of the beautiful blue roof church of Panagia Platsani, which has a unique bell tower. The Byzantine castle of Agios Nikolaos (Saint Nicholas), located in the western part of the city, which warned and protected the inhabitants against pirate attacks in the past, is used as a viewpoint today.
There is a small rocky beach called Ammoudi lying down under the castle, which can be reached either by steep stairs or a small curvy pathway. The tourists can enjoy a drink or meal in one of the taverns located here. Armeni, another beach used as a port, where also a small shipyard is working, lies in the south eastern part of Oia. You can visit it by boat or again by walking down steep stairs and enjoy swimming and snorkelling here.
More touristic destinations of Santorini
Close resorts: Ammoudi, Finikia, Paradisi
Most favourite resorts of Santorini: Akrotiri, Imerovigli, Kamari, Megalochori, Fira, Oia (Ia), Perissa
Resorts, beaches, sights or trips - clearly listed on the map of Santorini.
Did you visit this place and do you have some additional informations, interessting observation or photos?