Agia Paraskevi - Santorini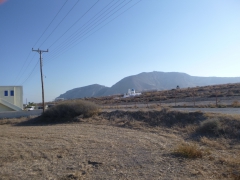 Agia Paraskevi resort, including village and beach with the same name, is located in the eastern part of the island and close to the airport, approximately 8 km from the capital city of Fira.
Santorini, Agia Paraskevi on the map

Agia Paraskevi is a quiet resort with several hotels, around which we can find also restaurants, bars and taverns. The beaches are easily accessible and washed by a calm sea. As they are generally not crowded, it is a good place for doing watersports, which are offered here as well.
Tourists and those who like to watch airplanes can visit the small village and beach of Monolithos, which can be reached after two kilometres north along the coast, lying immediately next to the airport. The beach offers similar facilities as Agia Paraskevi.
More touristic destinations of Santorini
Close resorts: Kamari, Mesa Gonia, Monolithos
Most favourite resorts of Santorini: Akrotiri, Imerovigli, Kamari, Megalochori, Fira, Oia (Ia), Perissa
Resorts, beaches, sights or trips - clearly listed on the map of Santorini.
Did you visit this place and do you have some additional informations, interessting observation or photos?