Santorini Airport (Thira) National
Thira Airport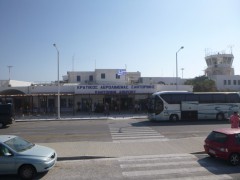 International airport of Santorini, also known as "Thira Airport", is located in the eastern part of the Greek island of Santorini (Thira, Thera) in close proximity to the Monolithos resort, approximately 6 km east of the capital city of Fira.
The airport was originally built just for military purposes, but since 1972 it has been used for civil flights as well. Today, the small international airport is used for internal flights to Athens and other Greek cities for most of the year, however, during the summer season there are many charter flights from all over Europe arriving here. Therefore, the small and simple terminal gets often overstrained during July and August, what leads to queues forming.
After the arrival on Santorini you can use one of the many buses going to the capital city of Fira (the journey takes about 20 minutes), where you change to concrete bus lines, which will bring you to the most famous resorts of the island.
IATA code: JTR
ICAO code: LGSR
Web: www.jtr-airport.gr , www.santoriniairport.com ,  www.thira.gov.gr , www.santoriniairportguide.com
Did you visit this place and do you have some additional informations, interessting observation or photos?