White Beach - Santorini
White Beach (Aspri Paralia)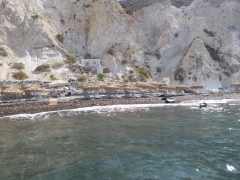 White Beach lies on Santorini´s south coast, approximately 14 km southwest from the capital city of Fira. It got its name after the, on Santorini quite rare, white shining rocks, which are surrounding it.
Santorini, White Beach on the map

It is a relatively small beach, covered with dark volcanic sand and pebbles, with white shining rocks, visible already from afar. The tourists can only use several sunbeds with umbrellas here, however some shadow is provided also by the rocks. There is no further equipment on the beach available. The beauty of this place is highlighted by the azure sea, inviting for snorkelling and diving. The divers like to visit the beach because of various caves that can be explored under the surface.
The access to the beach can be a bit difficult. The easiest way to get here is by boat, for example from the ports of Akrotiri or Perissa, nevertheless it is also possible to reach the beach by foot from the neighbouring Kambia Beach, but the journey is challenging.
Not very far away from the White Beach, one of the most beautiful and popular beaches of Santorini is located - Red Beach, famous for the red shining rocks surrounding it and creating a nice contrast with the black pebbled surface. White Beach is less touristic than the Red one, but it is also more quiet and calm.
More touristic destinations of Santorini
Close beaches: Akrotiri, Black Beach, Kambia, Kaminia, Mesa Pigadia, Red Beach
Most favourite beaches of Santorini: Kamari, Monolithos, Perissa, Perivolos, Red Beach, Vlychada
Resorts, beaches, sights or trips - clearly listed on the map of Santorini.
Did you visit this place and do you have some additional informations, interessting observation or photos?