Platania - Rhodes Island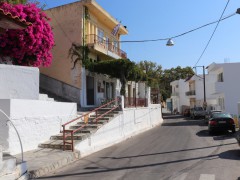 The resort of Platania is a small charming village in the central part of the interior of the Greek island of Rhodes, about 38 km southwest of the capital city.
Rhodos, Platania on the map

The village of Platania is located in a peaceful area of the Rhodian inland, which has plenty of moisture and is rich in forests and other vegetation. Herds of sheep and goats can also be seen in the local pastures. The village got its name from the large number of plane trees that grow here.
The village of Platania is a peaceful place that attracts locals and tourists alike, especially for the beautiful nature, the nice view of the surrounding mountains and the great food in the local taverns. Platania is located in the vicinity of the similar villages of Apollona, Eleousa and Archipoli.
More touristic destinations of Rhodes
Close resorts: Apollona, Archipolis, Eleousa
Most favourite resorts of Rhodes: Afandou, Archangelos, Faliraki, Ialyssos, Ixia, Kalithea, Kiotari, Kolymbia, Koskinou (Reni Koskinou), Lardos, Lindos, Rhodes (city)
Resorts, beaches, sights or trips - clearly listed on the map of Rhodes.
Did you visit this place and do you have some additional informations, interessting observation or photos?