Pastida - Rhodes Island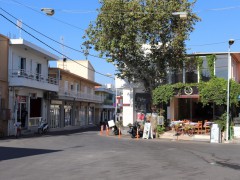 The small tourist resort of Pastida is located near the northwest coast of the Greek island of Rhodes, about 11 km southwest of the capital city.
Rhodos, Pastida on the map

Tourist resort Pastida
The village of Pastida is situated in the shadow of the smaller Mount Filerimos, slightly inland on the island of Rhodes. The nearest seaside resort of Kremasti is about 3.5 km away (Kremasti Beach is often used by Pastida residents and tourists) and the popular holiday resort of Ialyssos is about 6 km away.
The name of the village comes from the Italian word "Bastida", which translates as bastion or castle. Today, Pastida is quite a lively village, mixing traditional Rhodian houses with sought-after tourist services. Here you will find a typical Greek development of ground floor houses with open courtyards and narrow streets where even cars can't pass, but on the other hand a bustling centre with taverns, cafes and bars open late into the night.
Pastida and tips for trips in the vicinity
Nearby Mount (or hill) Filerimos is an important archaeological site on the island of Rhodes. The remains of a temple dedicated to Zeus and Athena, with the remains of Doric columns and the remains of Byzantine fortifications, have been uncovered during archaeological excavations. On the site of the ancient temple, the Church of Virgin Mary of Filerimos was built in the 14th century and has been restored several times since then. The whole area is set in a pleasant environment of mature cypress trees, inviting you to relax even during the sultry summer. By walking along the "cypress path", one can reach the 18-metre high Filerimos Cross with a steep staircase leading to its top.
Who is Pastida suitable for?
The resort of Pastida is already starting to appear in the offers of travel agencies, but the accommodation capacities are still rather limited. However, you can certainly rely on the tourist facilities in the form of taverns, bars, shops and other additional services (e.g. car rental, ATM, pharmacy). Pastida is a fairly quiet village, with evening life provided by the taverns and bars in the centre of the resort.
Pastida lies not directly by the sea and therefore does not have its own beach. Thus, tourists mostly use the nearby beaches of Kremasti and Ialyssos. Pastida, on the other hand, can offer visitors the picturesque setting of the local green and wild nature, especially around Filerimos Hill. Walks through the surrounding olive and citrus groves are beautiful.
More touristic destinations of Rhodes
Close resorts: Ialyssos, Kremasti, Maritsa, Trianta
Most favourite resorts of Rhodes: Afandou, Archangelos, Faliraki, Ialyssos, Ixia, Kalithea, Kiotari, Kolymbia, Koskinou (Reni Koskinou), Lardos, Lindos, Rhodes (city)
Resorts, beaches, sights or trips - clearly listed on the map of Rhodes.
Did you visit this place and do you have some additional informations, interessting observation or photos?