Malona - Rhodes island
Malonas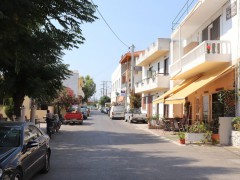 The small, traditional village of Malona lies in a picturesque valley in the interior of the Greek island of Rhodes, at its eastern coast, about 30 km south of the capital city. Malona is famous for its citrus fruit production.
Rhodos, Malona on the map

"Citrus" village Malona
The village of Malona (or Malonas) is located in a fertile countryside area, about 7 km from the town of Archangelos towards the interior of the island and is known as the largest producer of oranges on the island of Rhodes. It is surrounded by extensive citrus groves where local farmers grow mandarins and lemons in addition to the famous oranges. You can also find local quality olive oil here.
The name of the village comes from the ancient word "Mileon", meaning "place of fruits".
Malona is not a holiday resort in the true sense of the word, as it hasn't yet been hit by tourism. The village has a few taverns and rooms for rent, but most of the inhabitants work in citrus and olive farming or commute to the nearby resorts of Archangelos or Lindos for work.
Come here to soak up the true, peaceful Greek atmosphere. You can also visit the beautiful church dedicated to St. Irene. The church is a favourite place for budding artists who come here for inspiration, as the interior of the building is full of colourful murals.
More touristic destinations of Rhodes
Close resorts: Archangelos, Haraki, Massari
Most favourite resorts of Rhodes: Afandou, Archangelos, Faliraki, Ialyssos, Ixia, Kalithea, Kiotari, Kolymbia, Koskinou (Reni Koskinou), Lardos, Lindos, Rhodes (city)
Resorts, beaches, sights or trips - clearly listed on the map of Rhodes.
Did you visit this place and do you have some additional informations, interessting observation or photos?