Damatria - Rhodes island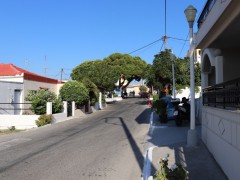 The small inland village of Damatria lies at the northwest coast of the Greek island of Rhodes, about 18 km southwest of the capital city. Damatria is one of the oldest villages on the island of Rhodes.
Rhodos, Damatria on the map

Damatria is a very historically significant village, as it is believed to be the only village on Rhodes that dates back to the Doric period in the 11th century BC. Archaeological excavations carried out in the surrounding area have confirmed that the area of present Damatria and its immediate surroundings has been continuously inhabited for more than 3 000 years. According to historians, this ancient settlement was named after the temple of the goddess Demeter that once stood here.
The village of Damatria is located at the northwest coast of Rhodes, close to the seaside resorts of Theologos and Paradisi and near the Diagoras International Airport. And although Damatria is a small village (it currently has around 500 inhabitants), the locals love to meet and have fun together. The main hustle and bustle takes place in the square, which is arranged around a huge old oak tree and there are also several taverns and cafes. Damatria is a very fertile area and most of the inhabitants are engaged in agriculture.
In terms of tourism, not many visitors come to the village, tourists often just pass through it when, for example, crossing from one coast of the island to the other. But if you have a moment, the beautiful village of Damatria is at least worth a walk. There are several natural springs in the vicinity of the village and the atmosphere of the place is also enhanced by the many ancient ruins and various ancient remains. From modern history, we can also mention the World War II memorial, which is a reference to this period when the village served as the headquarters of the Italian army.
More touristic destinations of Rhodes
Close resorts: Kremasti, Maritsa, Paradisi (Paradeisi), Pastida, Theologos (Tholos)
Most favourite resorts of Rhodes: Afandou, Archangelos, Faliraki, Ialyssos, Ixia, Kalithea, Kiotari, Kolymbia, Koskinou (Reni Koskinou), Lardos, Lindos, Rhodes (city)
Resorts, beaches, sights or trips - clearly listed on the map of Rhodes.
Did you visit this place and do you have some additional informations, interessting observation or photos?