Airport Diagoras - island of Rhodes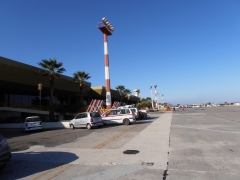 Diagoras Airport is the main airport on the island of Rhodes. It began operating in 1977 as a replacement for the obsolete airport near the village of Pastida and is one of the largest airports in Greece.
It is located in the northwestern part of the island, about 14 km southwest of the capital city of Rhodes and a short distance from the village of Paradisi. The flight time from Prague to Rhodes takes pleasant 2 hours and 50 minutes.
IATA code: RHO
ICAO code: LGRP
Web: www.ypa.gr , www.rho-airport.gr , www.hcaa-eleng.gr
Did you visit this place and do you have some additional informations, interessting observation or photos?