Knight's Period - Rhodes island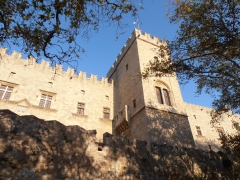 The resurgence of Rhodes' commercial importance came in the 11th century with the Crusades. The Crusaders used the island to supply goods and ships. The medieval period and the reign of the Knights were marked by fortification and modernisation. Existing fortifications were improved, new walls were built around the capital, new churches, hospitals and offices were built.
The influence of the Crusaders in Greek waters grew in the early 13th century when they conquered Constantinople during the Fourth Crusade and their commander, Leon Gavalas, declared himself hereditary despot of Rhodes. He ruled the island until 1246, when the Jananians took over militarily. And although a few years later, in 1261, the Byzantine Empire formally regained the island, in reality the Jananians and their admirals continued to rule. One of these admirals, Vignolo Vignoli, subsequently sold the islands of Rhodes, Kos and Leros to the Knights of St. John. These knights entered Rhodes history as Johanites (formerly called Templars and later known as Knights of Malta).
The Johannites began to build the island's fortifications, including massive walls and gates around the capital, and also built many new buildings in Rhodes itself. They established a hospital, accommodation and palaces. Still much admired today is the so-called Palace of the Grand Masters, which was occupied by the highest of the Johannite order, the Grand Master. Most of the time the Grand Master was a knight of French origin, so French became the most widely spoken language of the period. Under Johannite rule, Rhodes once again became a major player in the eastern Mediterranean and its port an important centre of trade between east and west. The largest Western European trading and banking houses opened branches on the island.
The Johanites were great warriors, both on land and at sea. Thanks to the fortifications they built, they were able to resist the raids of various conquerors and in the 15th century they defended the island against the attack of the Egyptian Sultan and later the huge army of Muhammad II.
Sights:
The old town of Rhodes is still protected by massive double walls with a deep moat inside, built by the Knights of St. John. In fact, the entire Old Town is full of monuments from the Knights' time - hospitals, palaces, churches. Many of them are among the real treasures of the predominantly Gothic and Renaissance style. In particular, we recommend you visit the Palace of the Grand Masters and take a stroll along Knights' Street, which is lined with the residences of the various knights. The Johanites also built, for example, the castle on the Acropolis of Lindos or the monastery on Mount Filerimos.
Did you visit this place and do you have some additional informations, interessting observation or photos?