Makris Tichos Beach - island of Rhodes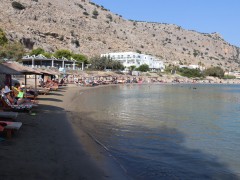 The small sandy beach of Makris Tichos is located on the southeast coast of the Greek island of Rhodes, about 51 km south of the capital city. The beach has a very pleasant and romantic impression.
Rhodos, Makris Tichos on the map

Makris Tichos Beach is situated on the shore of a tiny bay, about 6 km from the popular tourist resorts of Lardos and Lindos. The beach is lined with small hotels and villas. Behind them runs the main road connecting the area around the historically important town of Lindos to the north of the island. However, the traffic from the road does not disturb the tranquillity of the beach as traffic is already light in these areas.
The beach is covered with fine, golden sand and the sea in the bay is sparkling clean. Makris Tichos is an organised beach with sunbeds and umbrellas, beach bars and tavernas.
More touristic destinations of Rhodes
Close beaches: Lardos beach, Lothiarika beach, Pefki beach
Most favourite beaches of Rhodes: Afandou beach, Agathi beach (Agia Agatha), Agios Pavlos beach (Lindos - Saint Paul Bay), Anthony Quinn beach (Vagies), Elli beach (Rhodes Town), Faliraki beach, Megali Paralia beach (Lindos), Prasonisi beach, Tsambika beach
Resorts, beaches, sights or trips - clearly listed on the map of Rhodes.
Did you visit this place and do you have some additional informations, interessting observation or photos?