Agios Nikolaos - Crete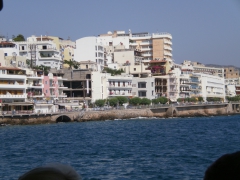 The modern and lively sea resort Agios Nikolaos is located in the Mirabello Bay, in the north eastern part of Crete, approximately 62 km east from the capital city of Heraklion (Iraklion).
Kréta, Agios Nikolaos on the map

Resort Agios Nikolaos - Description and equipment
The resort of Agios Nikolaos stretches on the slope above the Mirabello Bay, which is also called 'Äúthe bay of the rich'ÄĚ, exactly describing this favourite holiday place. The resort offers its visitors every possible comfort and background in form of luxurious hotels, chosen restaurants and taverns, shops, bars, music clubs and all kind of services. The main touristic hustle and bustle takes place in the harbour around the Voulismeni Lake, whereas the rest of the city is as made for romantic walks and relaxation.
Voulismeni Lake and the resort¬īs coast
The well-known Cretan Voulismeni Lake (Vulisméni) was a sweet water lake until the 19th century. Then a Turkish pasha let built a channel and connected so the lake with the sea. Today, the channel is used by small fishing boats. Voulismenilake is also mentioned in the Greek mythology. After a legend, the lake was originally bottomless and the goddess Athena was bathing in it. By the time, more and more curious people tried to prove themselves, if the lake is really bottomless. Although it is not bottomless, it is still quite deep - more than 60 metres.
At the harbour you can find the small sandy beach Ammos where you can relax for a while or maybe refresh yourself in the sea.
History and sights
The settlement was protected by the Venetian fortress on the Spinalonga Island and although the city with the original name Lato Pros Kamara was built in the 70s of the 19th century, partly on the rests of a former Venetian fortress (from the 13th century), there are unfortunately not many historical sights here. We can mention the Archaeological Museum, the Folklore Museum or the nice small church of Agios Nikolaos (St. Nicholas), which gave the city its today¬īs name. We recommend the resort of Agios Nikolaos those, who want to enjoy comfort and entertainment during their holidays.
Agios Nikolaos is the capital city of the Cretan province of Lassithi and lies at the main road which is going along the north coast of the island. In the Mirabello Bay, there are also other favourite resorts as Ammoudara, Istro or Pachia Ammos.
More touristic destinations of Crete
Close resorts: Amoudara (Agios Nikolaos), Elounda
Most favourite resorts of Crete: Adelianos Kampos, Agia Marina, Agios Nikolaos, Heraklion (Iraklion), Hersonissos, Chania, Ierapetra, Kalamaki (Matala), Malia, Platanias (Chania), Rethymno, Stalis
Resorts, beaches, sights or trips - clearly listed on the map of Crete.
Did you visit this place and do you have some additional informations, interessting observation or photos?