Tourist information
Practical advice for visitors to Crete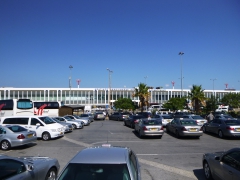 Are you going to the Greek island of Crete for the first time this year? Are you wondering what documents you need to get before your trip, how long the flight will take, or how much you need to turn the hands of the clock? Then read our practical tourist information to help you be better prepared for your holiday.
Basic information about the island of Crete:
Crete is the largest and also the southernmost Greek island, located on the border of the Aegean and the Libyan Sea. The capital of Crete is Heraklion and the total population of the island is more than 600 thousand inhabitants. As an integral part of the Kingdom of Greece, Crete is a member of both NATO and the European Union.
Language:
The official language of Crete is Greek. However, English, German, French, Russian and other world languages are commonly spoken in the tourist resorts. However, the local Greeks greatly appreciate it when foreigners try to use at least some Greek words, so be sure not to be afraid of it.
Currency:
As in the rest of Greece, payment in Crete is made in euros.
Time:
Crete, like the other Greek islands, is located in the GMT+2 time zone. Crete alternates between winter and summer time.
Climate and weather:
Crete is the southernmost Greek island and the climate is characterised as mild Mediterranean with hot and sunny summers and rainy and mild winters. See also the current weather in Crete.
Holidays in Crete and travel documents:
For EU citizens, a valid travel document, i.e. a passport or ID card, is sufficient to enter Crete (and Greece as a whole). The same applies to children, including the youngest ones. No visas or permits are required. Only if you want to spend more than 3 months here, you need to visit the nearest Foreign Police office in the area and apply for a residence permit.
Driving licence:
If you are planning to rent a car or motorbike and drive on holiday, you only need a classic driving licence (no international driving licence required). Of course, it is as valid as other documents.
Travelling with animals:
There are two basic requirements for travelling with pets - the pet must be properly vaccinated and have an international vaccination certificate. According to Cretan law, dogs are allowed to roam outdoors provided they are on a lead (including a muzzle for larger breeds) and any mess is cleaned up after. According to another regulation, it is forbidden to move animals in the water near swimmers. Contact your travel agent for rules regarding traveling with pets on a specific airline and staying at a specific hotel.
Customs regulations:
Certain restrictions and limits apply to the importation of certain goods into Crete. Most often tourists ask about medicines (you can bring your medicines with you, but there is an absolute ban on drugs and other narcotic and psychotropic substances), cigarettes (a limit of 200 cigarettes or 250 g of tobacco per person is allowed) and alcohol (different limits on different types of alcohol, e.g. max. 2 litres of wine per person).
Restrictions also apply, of course, to the export of certain items. The warning applies in particular to those who like to bring back souvenirs from their holidays, e.g. hand-caught shells etc. If you wish to take a plant or animal out of Crete, please check in advance whether it is an endangered species and whether it can be exported at all.
Important phone numbers:
Crete has a reliable network of mobile phone operators, so you shouldn't have any problems with the phone signal.
The international phone code for Greece is +30.
If you're in a pinch, the European emergency number 112 is also available here. Otherwise, Crete has its own numbers for first aid (166), ambulance (1016), police (100) and fire (199).
Healthcare in Crete:
Compared to other Greek islands, Crete has a relatively good network of health care facilities (hospitals, clinics, health centres, etc.). EU citizens should carry a European Health Insurance Card, which entitles them to emergency and urgent medical care. This emergency care is free, but you often need to pay for it at the place of treatment first and then get reimbursed by your health insurance company when you return to the EU countries. Therefore, always keep proof of payment.
However, please note that this necessary and urgent medical care does not include extra services, especially transport to the EU countries, whether in case of illness, injury or transfer of remains due to death. For these cases, you should take out additional insurance before travelling.
Accommodation and hotels:
Water from tap:
Tap water is safe for normal consumption. However, tourists are advised to buy bottled water for drinking.
Sockets and electrical appliances:
The power supply parameters are classically 220 V (50 Hz). For us Europeans, no special socket adapter is usually needed.
More interesting facts about Crete:
Smoking:
Under Cretan law, smoking is prohibited in all enclosed public areas. Hotels and other accommodation establishments may have specially designated smoking rooms.
Nudism:
In holiday resorts in Crete, nudism is generally allowed.
Weddings:
Engaged couples should contact the specific town or municipality in which they wish to marry and complete all formalities there. Same-sex marriage is not allowed in Crete.
Did you visit this place and do you have some additional informations, interessting observation or photos?