Spinalonga Beach - Crete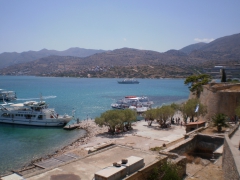 The small pebbly beach of Spinalonga lies on the Spinalonga Islet in the north eastern part of Crete approximately 74 km east from the capital city of Heraklion (Iraklion). It is the only place on the island, where you can comfortably refresh yourself in the sea.
Kréta, Spinalonga on the map

The small island of Spinalonga (or 'ÄúSmall Spinalonga'ÄĚ) together with the bigger peninsula of Spinalonga (or 'ÄúBig Spinalonga'ÄĚ) can be found in the Mirabello Bay, close to the Elounda Harbour. The island where the massive Spinalonga Fortress is standing belongs to popular touristic trips, as the visitors can see many examples of the Venetian fortification and artillery towers as well as buildings from the Ottoman Period or facilities for the lepers. The island can be reached just by boat, the best way is from the harbours of Agios Nikolaos and Elounda or from the small fishing village of Plaka.
There are not many places for swimming on the island, as the coast around the fortress is very rocky and because the rests of the defensive walls are copying the coastline where at some points, the even go into the sea. The only place, from where the access into the water is easy is the small natural and not organized pebble beach of Spinalonga, which lies next to the wharf. Despite the beach is small it is quite gradual and the visitors can safely get into the sea here.
More touristic destinations of Crete
Close beaches: Elounda Beach
Most favourite beaches of Crete: Amoudara Beach (Heraklion), Balos Beach, Elafonisi Beach, Falassarna Beach, Glyka Nera Beach (Sweet Water), Matala Beach, Platanias Beach, Preveli Beach, Stalis Beach, Stavros Beach, Vai Beach, Voulisma Beach, Xerokampos Beach
Resorts, beaches, sights or trips - clearly listed on the map of Crete.
Did you visit this place and do you have some additional informations, interessting observation or photos?