Plakias Beach - Crete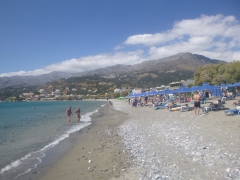 The long and well-organized sandy beach of Plakias lies in the southern part of Crete, approximately 114 km south west from the capital city of Heraklion (Iraklion).
Kréta, Plakias on the map

The beach and the eponymous resort of Plakias are very popular among the tourists and belong to the most visited destinations of Crete. Despite the resort has a quality background, it is seldom overcrowded. It lies at the calm south coast of the island, approximately 36 km south from the city of Rethymno. The biggest lure of the resort is with no doubt its wonderful sandy beach.
The wide beach of Plakias goes along the whole bay. Its surface consists of smooth sand and the entry into the crystal-clear sea is very gradual, what will probably appreciate families with children and non-swimmers. In this region, the sea is normally calm and the nice look of the beach is highlighted by small tamarisk trees.
Plakias can take care of its visitors very nicely – along the beach, we can find several hotels together with delicious restaurants and tavernas. Directly at the beach, the tourists have sunbeds with umbrellas, showers, refreshment kiosks or dressing rooms available whereas the more active ones can try the big offer of adrenaline water activities or beach volleyball.
Sometimes, we can see that the central part of the beach is named as the Galia Beach. The eastern end of the beach is known as Paligremnos Beach, for which the steep high rocks are typical. The rocks are located in the close neighbourhood of the beach, what is also one of the reasons why they are attracting the mountain climbers. Close to Pilgremnos direction to the south, we can see tunnels carved into the rocks. These tunnels were used for coal transport onto the cargo ships in the past. On the contrary, in the western part of Paligremnos, the Kotsifos River flows into the sea, what makes the water temperature significantly lower here.
More touristic destinations of Crete
Close beaches: Damnoni Beach, Schinaria Beach
Most favourite beaches of Crete: Amoudara Beach (Heraklion), Balos Beach, Elafonisi Beach, Falassarna Beach, Glyka Nera Beach (Sweet Water), Matala Beach, Platanias Beach, Preveli Beach, Stalis Beach, Stavros Beach, Vai Beach, Voulisma Beach, Xerokampos Beach
Resorts, beaches, sights or trips - clearly listed on the map of Crete.
Did you visit this place and do you have some additional informations, interessting observation or photos?