Malia Beach - Crete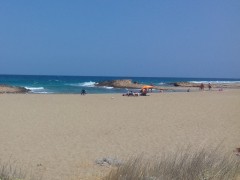 The beautiful sandy beach of Malia lies inside the popular Malia Bay in the northern part of Crete approximately 35 km east from the capital city of Heraklion (Iraklion).
Kréta, Malia on the map

The eponymous Malia Resort is a part of the wide resort of Hersonissos-Stalis-Malia which is considered to be the liveliest and most popular holiday destination on Crete. Except the big number of various accommodation capacities, shops, pleasant tavernas and music clubs the resort offers its visitors beautiful roomy sandy and pebbly beaches.
On the approximately 2 kilometres long coastline going along the Malia Resort we can find several smaller beaches. One of the most favourite ones is the Malia Beach which is long, quite roomy and covered by smooth sand. The sea in this region is very shallow and has crystal-clear water that gets nicely warm during the summer months. It is therefore no surprise that the beach is frequently visited by families with small children or persons with moving limitations.
The beach is equipped with numerous sunbeds and umbrellas. The refreshment is ensured by several beach bars whereas more tavernas and restaurants are in the direction to the resortÂŽs centre. The fans of adrenaline will probably like the wide offer of water sports.
The picture of Malia, more precisely the view from the beach on the small islet with a picturesque chapel of Agioi Pantes ("All Saints", sometimes also called "Christ®s Transforming") is also known from the promotion materials of Crete.
Similarly, as the rest of the resort, Malia Beach is very lively and popular among the tourists what can sometimes have also negative aspects especially when the place is very crowdy and you simply cannot find free sunbeds. On the other hand, the fans of entertainment and fun will not get bored. If you would still rather prefer to enjoy calmer places try to go behind the harbour at the eastern end of the beach where you can relax on the small beaches of Pirgos and Potamos.
More touristic destinations of Crete
Close beaches: Stalida Beach
Most favourite beaches of Crete: Amoudara Beach (Heraklion), Balos Beach, Elafonisi Beach, Falassarna Beach, Glyka Nera Beach (Sweet Water), Matala Beach, Platanias Beach, Preveli Beach, Stalis Beach, Stavros Beach, Vai Beach, Voulisma Beach, Xerokampos Beach
Resorts, beaches, sights or trips - clearly listed on the map of Crete.
Did you visit this place and do you have some additional informations, interessting observation or photos?