Koutsouras Beach - Crete
Paralía Koutsouras, Paralía Koutsourá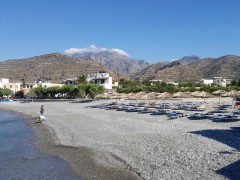 The calm and well-equipped pebbly beach of Koutsouras lies in the south eastern part of Crete approximately 117 km south east from the capital city of Heraklion (Iraklion).
Kréta, Koutsouras on the map

The Koutsouras Beach lies in the western part of the eponymous picturesque Koutsouras Resort forming together with the neighbouring resort of Makrigialos a big and frequently visited holiday place with good touristic background. Despite the resort is big, it keeps a nice and calm atmosphere.
The beach of Koutsouras is covered by small dark pebbles. It lies in an open bay where the entry into the water is gradual what makes this place ideal for families with small children or non-swimmers, but there are also some places where the rocks are going into the water and where the access into the sea can be therefore quite difficult. The beauty of this place is highlighted by the crystal-clear sea and small Tamarisk trees.
Koutsouras is well-organized and offers many sunbeds with umbrellas. The visitors have showers or beach bars available as well as several tavernas¬†in close proximity of the beach. More tavernas and restaurants can be found in the resort¬īs centre.
Along the coast, you can find more smaller and calmer beaches as for example the little Macheridia Beach which lies in a closed bay west of the Koutsouras Resort. East from the Koutsouras Beach you can then explore the nice sandy beach of Koutsoureli, recommended to families with children.
More touristic destinations of Crete
Close beaches: Kalamokania Beach, Katovigli Beach
Most favourite beaches of Crete: Amoudara Beach (Heraklion), Balos Beach, Elafonisi Beach, Falassarna Beach, Glyka Nera Beach (Sweet Water), Matala Beach, Platanias Beach, Preveli Beach, Stalis Beach, Stavros Beach, Vai Beach, Voulisma Beach, Xerokampos Beach
Resorts, beaches, sights or trips - clearly listed on the map of Crete.
Did you visit this place and do you have some additional informations, interessting observation or photos?