Kokkini Hani Beach - Crete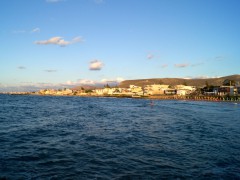 The beautiful sandy beach of Kokkini Hani lies in the northern part of Crete approximately 12 km east from the capital city of Heraklion (Iraklion). 
Kréta, Kokkini Hani on the map

The beach belongs to the eponymous Kokkini Hani Resort which lies close to the capital city of Heraklion and has a good touristic background. The coast of the resort consists of the main sandy beach of Kokkini Hani and several smaller pebbly beaches and bays.
The Kokkini Hani Beach is a beautiful and roomy sandy beach with a gradual entry into the sea. It is therefore no surprise that the resort is often visited by families with children. The beach is fully equipped and well-organized with many options of adrenaline water sports. The refreshment is ensured by several bars and kiosks serving cool drinks and close to the beach you can find also nice tavernas and cafes.
Kokkini Hani is popular among young tourists searching for night life entertainment and can be therefore quite crowdy during the summer season.
More touristic destinations of Crete
Close beaches: Gournes Beach, Tobrouk Beach
Most favourite beaches of Crete: Amoudara Beach (Heraklion), Balos Beach, Elafonisi Beach, Falassarna Beach, Glyka Nera Beach (Sweet Water), Matala Beach, Platanias Beach, Preveli Beach, Stalis Beach, Stavros Beach, Vai Beach, Voulisma Beach, Xerokampos Beach
Resorts, beaches, sights or trips - clearly listed on the map of Crete.
Did you visit this place and do you have some additional informations, interessting observation or photos?