Gournes Beach - Crete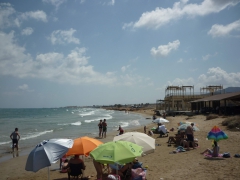 The small sandy beaches of the Gournes Resort can be found in the northern part of Crete, approximately 18 km east from the capital city of Heraklion (Iraklion).
Kréta, Gournes on the map

The sea resort of Gournes belongs to calm and peaceful places and also its beaches have the same character. The coast around the resort is not holistic and consists of several small beaches and bays which are open and where often strong wind is blowing. For this reason, there were breakwaters built on the beach for a better protection against big waves.
In the resort there are two sandy beaches having the name of Gournes:
The first lies west from the city centre under the Blue Sky Beach Hotel. The beach is quite long, well organized and equipped. Except on the sunbeds with umbrellas, the visitors can relax in the beach bar or in the adjoining tavernas.
On the contrary, the other sandy beach of Gournes is not organized and lies in the eastern part of the resort, behind a small harbour.
More touristic destinations of Crete
Close beaches: Gouves Beach, Kokkini Hani Beach
Most favourite beaches of Crete: Amoudara Beach (Heraklion), Balos Beach, Elafonisi Beach, Falassarna Beach, Glyka Nera Beach (Sweet Water), Matala Beach, Platanias Beach, Preveli Beach, Stalis Beach, Stavros Beach, Vai Beach, Voulisma Beach, Xerokampos Beach
Resorts, beaches, sights or trips - clearly listed on the map of Crete.
Did you visit this place and do you have some additional informations, interessting observation or photos?