Basic information about the city of Athens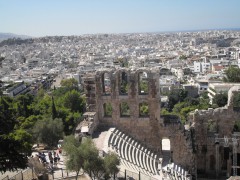 Athens is the capital of Greece and a popular tourist destination worldwide. It is located in the south of the Balkan Peninsula on the mainland of Greece, specifically on the Attica Peninsula. Athens is one of the cities with the highest population density.
City name: Athens (╬Ĺ╬Ş╬«╬Ż╬▒)
Capital of the state: Capital of the Hellenic Republicstate (╬Ľ╬╗╬╗╬Ě╬Ż╬╣╬║╬« ╬ö╬Ě╬╝╬┐╬║¤ü╬▒¤ä╬»╬▒, Greece)
Provinces: Attika
Population: Approximately 664 000 inhabitants (more than 4 million inhabitants in the entire agglomeration)
Area: 39 km2 (Greater Athens area 427 km2)
The highest peak: Lykavittos (Lycabettus, 277 m above sea level.)
The most famous monuments: Acropolis, Parthenon, Propylaea, Agora, Odeum
Official language: Greek
Currency: Euro (EUR)
Telephone area code: 210
Official city website: www.cityofathens.gr
To learn more about Athens, read our other articles:
And take a look at the map of Athens to help you find your way around the capital.