Accommodation - Terms overview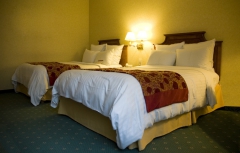 An small accommodation terms overview, which you could encounter on your holiday.
Apartment =Â Housing unit including equipment and accessories. Accommodation in several rooms fitted for more persons. It often has its own kitchen, bathroom or an extra bed. Bedroom separated from kitchen with sofa.
Bungalow =Â A light, one-stored residential building with basic equipment (Bedroom, kitchen, bathroom)
Studio =Â Housing unit including equipment. Usually one room with kitchenette.
Suite = Over standard apartment-style hotel room. Separated bedroom and one room with a sofa. Usually without kitchenette.